Dan Purdom, Pastor
Hello! My name is Pastor Dan Purdom and on behalf of Bethany United Methodist Church I would like to welcome you to our website, and to our church. Bethany is a warm and vibrant worshiping community where you will find support, love, and encouragement for your spiritual journey. Check out the website for more information on worship and ministry opportunities at Bethany. If you have any questions or comments, please use the Contact button (above) to call or send us a message. We look forward to welcoming you in Christian community.
What are you passionate about?
The Church, my family, and spending time in the great outdoors.
What is your favorite Bible verse?
All this is from God, who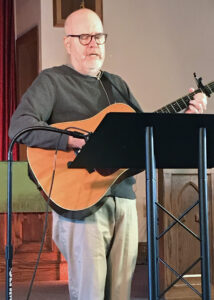 reconciled us to himself through Christ, and has given us the ministry of reconciliation: that is, in Christ God was reconciling the world to himself, not counting the trespasses against them, and entrusting the message of reconciliation to us. So we are ambassadors for Christ, since God is making his appeal through us; we entreat you on behalf of Christ, be reconciled to God. (2 Corinthians 5: 18-20)
Favorite movies?
Second Hand Lions, Trading Places, Ace Ventura: Pet Detective.
Who inspires you?
Spiritual writers including Richard Rohr, Thich Nhat Hahn, and Frederick Buechner.
What was your first job?
Working as an inventory clerk and job site delivery person for an electrical contractor.
What is the most influential book in your life (other than the Bible, of course)?
"The Lord of the Rings" by J.R.R. Tolkien
Dale Roller, Praise & Worship Leader
Dale grew up on a dairy farm in Weyers Cave with a brother and a sister. The family moved to Weyers Cave when he was 2 so he has been at Bethany most of his life. He started with piano lessons at age 8 and taught himself to play banjo at age 16.
Dale attended Virginia Tech for 2 years studying agriculture, then transferred and graduated from Longwood College (now University) with a degree in Music and a minor in Business. He played music as his main profession for 14 years and became involved in computers while on the road. He works now as a Software Quality Assurance Engineer at Jenzabar in Harrisonburg VA.
What are you passionate about?
Music, my family
What is your favorite Bible verse?
"Peace I leave with you, my peace I give to you; not as the world gives do I give to you. Let not your heart be troubled, neither let it be afraid." – John 14:27
Favorite movies?
Lonesome Dove (I know, TV miniseries), White Christmas, It's A Wonderful Life
Who inspires you?
My parents: Harold and Carolyn Roller, Dr. Bob Blasch – friend and piano professor from Longwood College
What was your childhood ambition?
To be a radio disc jockey, a detective or a musician (not all at the same time)
What was your first job?
First job: working on my family's dairy farm, Kendale Jerseys
First jobs away from the farm: mowing grass one summer at Gypsy Hill Park in Staunton, then playing banjo at one of the shows at Busch Gardens in Williamsburg.
What is the most influential book in your life (other than the Bible, of course)?
Hard question – When I was much younger, my Mema Myers had some books at her house that belonged to my uncles, a series called the Sugar Creek Gang. I read those (a number of times) and got more as gifts between age 7 and 12. These were stories about boys growing up in the country who had adventures and loved Jesus. I recently reread a number of these books as I was reading them with my son when he was younger.
How do you spend your free time?
Listening to and playing music, messing with computers, hanging out with my family, reading.
Marguerite McDonald, Organist, Music Director
Marguerite grew up in Weyers Cave on a dairy farm with her parents and two brothers. She has attended Bethany since childhood. After graduating from high school, she attended Longwood College and received a bachelors degree in music education.
Marguerite lived in Covington for seven years where she taught music in Alleghany County and served as the organist at a Baptist Church and a Presbyterian Church. She returned to the valley and began teaching music in Augusta County. At the same time, she attended JMU where she earned her masters degree in music. Upon completion of her masters degree, she continued taking classes to become certified in school administration and supervision.
In 1994 she began working as a school administrator, which continued until her retirement in 2015. During this time, Marguerite worked for awhile at several different churches, including Bethany, as the organist/choir accompanist. She and her husband live at Fort Defiance with several four-legged fur babies. She has two stepchildren who both live out of state. She also works part-time for JMU.
What are you passionate about? I am passionate about my family, including my pets!
What is your favorite Bible verse? I know the Lord is always with me. I will not be shaken, for he is right beside me. (NLT) Psalm 16:8
Favorite movie? I guess that would be "Sound of Music" since I've seen it more times than any other movie and I keep watching it when it comes on!
Who inspires you? My parents and my father-in-law.
What was your childhood ambition? To be a teacher or a hair stylist.
What was your first job? Babysitting
How do you spend your free time? I enjoy sewing, quilting and working in my flower beds, and watching "I Love Lucy" reruns.
Cindy Kite, Office Administrator
Cindy was born and raised in the Valley. Her mom is a local girl and her father was a handsome sailor from California. Although she has lived in several different states, she has always come back to the Valley. She graduated from Fort Defiance High School and Blue Ridge Community College with an associates degree in Business.
She has been happily married to her best friend Randy for 34 years. They have two adult sons and a lovely daughter-in-law, whom all graduated from VA Tech … GO HOKIES! Their oldest son Chris and his wife Lindsay live and work in Northern Virginia and the youngest, Ryan, lives and works locally. They also have a very spoiled two-year old dog named Sophie.
Cindy has been a member of Bethany for over 50 years and truly loves and appreciates her church family. She has been involved in Children's Ministries, organizing and chairing Community Vacation Bible School for many years. She has also been involved with the youth and loves working in Women's Ministries.
What are you passionate about? I am passionate about many things … my church, my family, my friends and continuing to grow as a Christian woman.
What's your favorite Bible verse? "Don't be afraid, for I am with you. Don't be discouraged, for I am your God. I will strengthen you and help you. I will hold you up with my victorious right hand." Isaiah 41:10

Favorite movie? I love to watch movies and it's hard to pick just one, but if I have to it would be "The Notebook."
Who inspires you? My husband who has always been my biggest cheerleader.
What was your childhood ambition? To be a school teacher.
What was your first job? Babysitting and then McDonald's
H

ow do you spend your free time?

I love spending time with my family. And doing DIY's around the house. I also enjoy traveling with my husband, reading and crafting. Oh, and spoiling our rotten, mischievous dog Sophie.